Abrons Arts Center presents dancer Angie Smalis and Colin Gee in Chaplet of Roses and They Go Out in Joy, May 6, 7 and 8 at Abrons Arts Center's Experimental Theater.
Angie Smalis trained and worked professionally as a dance artist in Athens, Greece before moving to Austria in 2001, to join the Viennese Opera, Volks Oper Wien. She relocated to Limerick in 2003 to join Daghdha Dance Company. Smalis is an independent contemporary dance artist, leads Limerick Youth Dance, is artistic director of Limerick Youth Theatre, and is also founder and director of Patterns Dance Collective, a group of dance artists with intellectual disabilities.
Californian born and trained Colin Gee, joined Angie Smalis in leading a professional class, during his residency with contemporary dance artist, Angie Smalis, at Dance Limerick, Friday, April 22, 10 am – 11:30 am.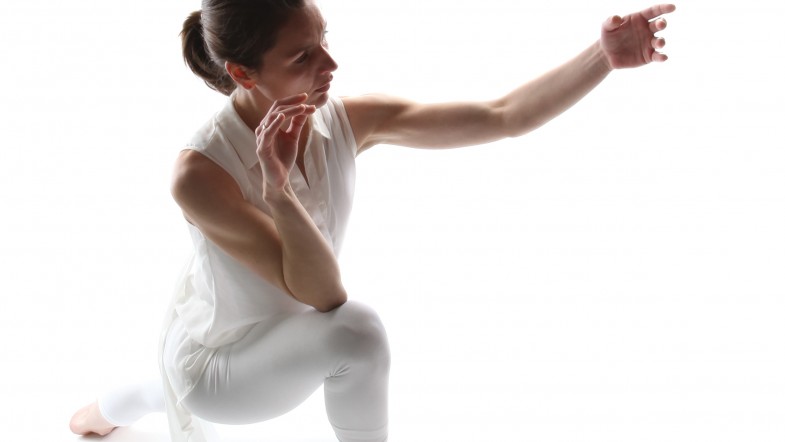 Abrons Arts Center presents Chaplet of Roses and They Go Out in Joy, with Angie and Colin. The two works were developed from fragments of the past. Chaplet of Roses, it is a 15th-century tapestry, while They Go Out in Joy, is a collection of photos of Irish emigrants. The performance is part of Abrons' Travelogues dance series, curated by Laurie Uprichard, executive director of the Stephen Petronio Company and director of the Dublin Dance Festival.
Chaplet of Roses, a dance work for video, and live performance, is inspired by "Honor Making a Chaplet of Roses," featuring an allegory of courtly love told through the simultaneous action of four characters. Created in Limerick, with Angie Smalis, the work explores a contemporary interpretation of the allegory as a notion of individual and community morality by framing shifts between public and private life.
They Go Out in Joy, is a series of performance portraits drawn from photographs of Irish emigrants taken just prior to their departure from Cobh, in the 1920s, when the town was a major port of emigration. Set against the background of present-day Cobh, Smalis and Gee again portray all the roles, shifting between the public and private lives of each persona at a single paused moment imagining what has just happened or is about to happen.
Angie expressed her gratitude to Dance Limerick, Limerick City and County Council, The Arts Council and Culture Ireland for their continuous support and for making the creation, presentation of works and the travel to New York possible.
Find out more about Abrons Arts Center here
Read more about Angie Smalis here
Click here for more of Limerick's latest news